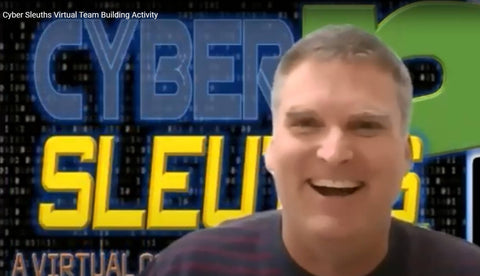 Cyber Sleuths: A Virtual Codebreaking Adventure
Cyber Sleuths: A Virtual Codebreaking Adventure
Keep your cyber force engaged
"Given the fact that so much of the US labor force is now working remotely online, employers need tools to keep their remote employees connected as an integral part of the team. For that reason, we'd like to introduce Cyber Sleuths, a REALLY FUN way to include all the puzzles, problem-solving, and intensity of a traditional scavenger hunt or room escape… but this event is purpose-built for remote team engagement using zoom or videoconferencing platforms.
How it Works:
Each team is comprised of members working together from their own remote locations (at home, their office, a conference room, hotel room, etc…)
Through Video Conferencing and Screen Sharing, each team member receives a portion of a digital puzzle or clue.
To complete each puzzle, teams must compile information from their shared screens and work together Teams race against each other to piece everything together and provide our Cyber Captain with the appropriate CODE WORDS to continue.
The first team to complete all the puzzles and clues is crowned Sleuth Champions!"
Duration of Experience - 60-90 minutes
Min Number of Guests - 5
Max Number of Guests - 200